HUMMINGBIRDS
The below article will address some of the most important questions about hummingbirds, such as:
When are hummingbirds in the Chicagoland area?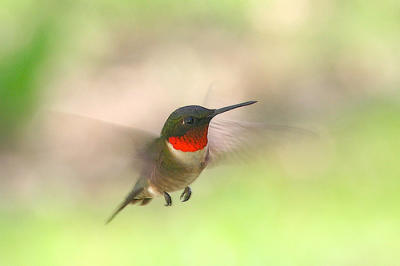 What types of hummingbirds are in the Chicagoland area?

How can I attract hummingbirds to my yard?
What type of feeder do hummingbirds like?
What is the proper nectar solution for hummingbirds?
What types of flowers do hummingbirds like?
How often should I change the hummingbird nectar?

Hummingbirds are a migratory species, so they will not be seen in the Chicagoland area all year-round. The only species of hummingbirds that is found east of the MIssissippi river is the Ruby-Throated Hummingbird (see photo). Hummingbirds migrate through the Chicagoland area two times per year. During the spring migration (May-June), hummingbirds fly through the Chicagoland area heading North to such states as Wisconsin, Michigan, Minnesota and Southern Canada. This is where most hummingbirds spend the middle of the summer for nesting. After the nesting season, hummingbirds will fly South through the Chicagoland area (Mid August - September). The late summer migration is the heavier of the two migrations because this is the peak of hummingbird population. There are simply more hummingbirds after the nesting season because there are new juvenile hummingbirds. Male hummingbirds start migrating south first
When hummingbirds migrate through the Chicagoland area they will stop at any feeding locations they spot and may spend several days at one location before they head further North. This is a great time to put your hummingbird feeder out in addition to as many red, tubular flowers as possible. Hummingbirds are attracted by the color red and purple and will investigate anything red to see if it's a flower, they will even buzz around a red shirt you might be wearing!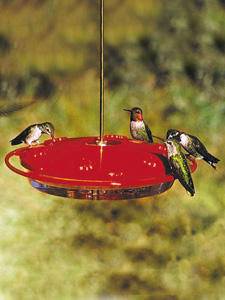 We have found the bowl/disc shaped feeders to be the most effective and practical hummingbird feeders. The lid has plenty of red color to attract hummingbirds, there is a built-in ant trap, and the bowl design doesn't leak like most upside-down flower or orb style feeders. These feeders also have a lifetime guarantee in case they fall down and break and against discoloration. The bottom of the lid also has the recipe for the proper nectar mixture.
The recipe for hummingbird nectar is 4 parts water and one part

white table sugar

, NO red dyes are necessary. It is important to only use regular white table sugar, NOT brown sugar or any artificial sweeteners or honey. You may make a larger batch of nectar and store it in the refrigerator, this will keeps it fresh for two weeks. It is

very important

to change the nectar in the feeder every other day because sugar water will ferment quickly in warm weather and hummingbirds will not eat it.